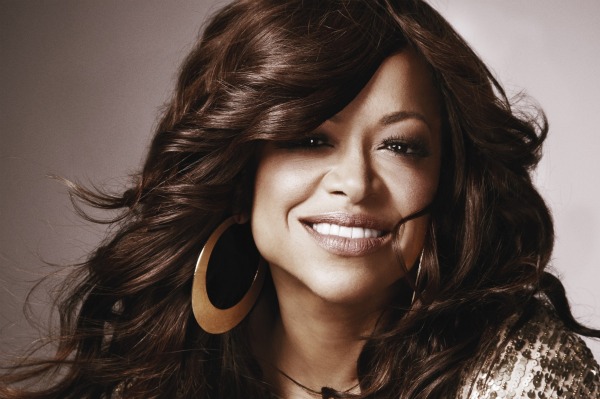 When I spoke to Stacy last week, we spent some time conversing about the XFactor, her stay and troubles during the show, how she feels about Britney and Demi replacing the old judges.
Me - I want to have a possitive interview but I want to ask about the XFactor... how was dealing with the XFactor and some of the unfortunate things that were being said? How were you able to cope with everything without bursting?
Stacy - Without breaking? You know it was very interesting.
Me - You were really really strong in that sense because you were being attacked from so many different angles but you were still able to go out on stage and out-sing the other competitors.
Stacy - You know I think towards the end it started to affect me very much emotionally because we are all humans, there's so much we can take. But I kind of wish (speaks to child...) I'm sorry about that, I'm just dropping my kids off, single mom stuff... when I look at it now, when I looked at the internet. I had people telling me "don't look at the internet, don't read it" but it was all so new to me, you know what I mean? Being in the spotlight like that was very new to me and I didn't know how to handle it... but it did affect me, I had my moments. It did get in my head a lot... and I think that if it would not have that I might have stayed in the competition a little longer because I was dealing with so many elements... But I look at it now and I have the support of so many people, the fans who are still here and know me... they know the truth now.
Me - Do you think you were portrayed the way you are or they edited some stuff?
Stacy - (laughs) you know it's so funny because I'm doing a reality show soon, I'm doing another one and the producers of that show know me before I went into the XFactor and they were like "Stacy, you're so funny and no one got a chance to see that, you're really funny" I don't know that I'm funny, people just tell me I am. (That part of the show) it was always me crying... of course it was me, parts of it, but I also think the public didn't get a chance to really see all aspects of me but it wasn't my show, it was me and others acts... backstage it was another competition, competition backstage, onstage... you also have to be aware that the producers are watching you to see what kind of personality you had and if you were worthy of them pushing you forward so that America could get to know you and you could win.
Me - How did you hear about the judges being...what's the word I'm looking for that's not "fired"... when they were asked to leave, how did you hear about it and what was your thought?
Stacy - Unfortunately I was just with Paula maybe a week before I heard about it. I was with her, I'd done a show for Pepsi and I saw Paula and we were able to spend some time together and she's such a sweetheart! When I heard about that I was really devastated but you know Paula is a fighter and she's gonna move on to do other great things. I didn't understand the move that was made but you know Simon is a genius so I'm sure that we will all understand it soon enough.
Me - How do you feel about Britney and Demi being the new judges?
Stacy - Britney and Demi are a new fresh idea. You know I think it's really interesting, I don't know anything about Demi Lovato, I know Britney of course. I'm a very big fan of Britney Spears. I think that it'll be interesting to see her, because like I said I don't know Demi, but during the season we will get to know them and see their personalities, and that's the wonderful thing when the judges are on the panel like this, we get a chance to get to know them. We got a chance to really get to know Jennifer Lopez, of course we saw her work all these years, we admired her and how a great of a singer, an actress and a performer she is but really to see her heart and how sweet she is before American Idol and I think it'll be the same for Britney and Demi.
Me - I was really surprised when all the rumors started about Britney joining, because not to sound mean but usually they choose people that need that extra help to make a comeback, with The Voice, American Idol, they always choose someone that's not in the spotlight or that needs that extra push. And I was really surprised about Britney because she had just been on a world tour, she had just sold so many singles, I don't think she needs it.
Stacy - But you also have to look at what the purpose of a mentor is, the purpose of a mentor is to come and teach a younger artist or a new artist what it means to be in the business and what it means to perform on stage and I think that's what it should really be about and I think (Britney) is good for that.
Me - Yeah, specially being in the industry for so long and being able to relate. She did a couple of singing competitions when she was little, too.
Stacy - Just like Nicole, because Nicole is able to come and say "Hey! This is how it goes because she was also in a competition" so I think being able to relate to the contestant is the most important thing. I get what you mean about bring the careers back but at the end of the day it really should be about the contestant.
Me - What would you say to somebody that is trying to audition for the XFactor or any other competition show?
Stacy - I think for me, when I auditioned for the XFactor it was 'cause I had auditioned for The Voice as well and this was before the XFactor, I really wanted the XFactor. I decided to show up, I didn't allow my nerves or my fears or my story to get me down. I was so frustrated of being told no, and now matter what everyone says, Perez Hilton and other people said that I had all this fame before, no, I had some success... I wasn't a star... When I went into that audition I went with passion and conviction and faith and I went in like that was my last shot... I think that if you go in and you go all out and I'm gonna show my talent.
Me - You're also friends with Adam Lambert, right?
Stacy - You know, I don't know Adam, we never met in person. That was one of the things that was blown out of proportion on Twitter and Perez Hilton. You know my face was put on this poster that I worked with him and I never worked with Adam, I was supposed to do a show... and when I was on the XFactor they were saying "oh she lied about this too" and I was like "I've never met Adam!"
Me - You should just extend that and do a duet with him, just go with it.
Stacy - That would be such an honor, I became a Glambert after all of that. I love Adam, he's a good guy, he definitely won my heart and he can sing his ass off!... Now we talk about Adam, I should tweet Adam and see what happens.
Me - Yeah, DM him the interview when I post it and be like "hey, just read this, wink wink!"
Stacy - Yeah, that would be great and then I can thank you when I win a Grammy, I'll thank you!
Second preview of the official single cover. Look out for part three of the interview to get all the juicy details about the album release!