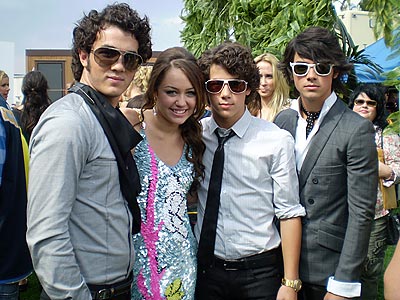 The only Disney stars making Hollywood Records any money have finally left the shitty label! This comes as no surprise to fans of all four of the involved parties seeing as how Hollywood Record completely sucks at promoting, record, tours, etc, etc etc.
This is a good move for the original JB, Nick is making a shit ton of money in broadway, Joe (the promising one from the trio) completely flopped and went nowhere...and no one really cares about Kevin. So they (Joe & Kevin) need this revival really badly. With their departure from the label they brought back all the rights to their released and unreleased material. This could mean they are going to open their own record company and produce / release whatever they want. And seeing as how boy bands are back thanks to the UK, maybe The Jonas Brothers will go back to seeing 500K albums a week.
As far as Miley, little is confirmed. We know for sure she left the label and that she MIGHT have signed with RCA Records and if that's true, damn girl, you're about to become the mega pop star you were always meant to be. RCA hosts the biggest stars in the planet right now, Britney Spears, Kelly Clarkson, Flopgelina Hasbeen-guilera, and a load more other artists I can't seem to remember right now.
I am excited, to be honest. My inner 12 year old from 2007 (I was really 16 but shhh) is jumping with joy because my life needs some Jonas Brothers and Miley Cyrus...
*Just because I can't get this song outta my head now. Watch out Demi Lovato, the real Disney Queen of the passed half decade is baaaaaaack*