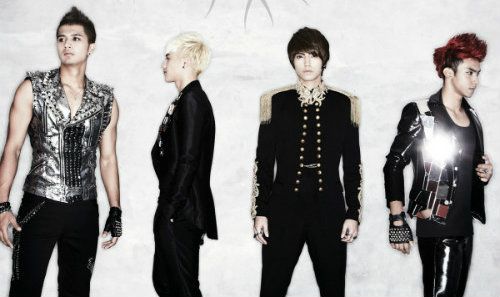 Indonesia finally jumped on the manufactured bandwagon*. Unleashing the flawless new group titled S4 (Sexy, Smart, Sweet and Sentimental) Yeah, that's what it stands for but please try to forget that and listen to them, they really are flawless. Also, Hyun A is in their debut single... yeah I got your attention now didn't I?
"She's My Girl" will definitelly be released in Korean within weeks because it has everything a KPop song needs to be a smash. It's fun, energetic, alive, catchy, and it has Queen of KPop, multi-talented, multi-fasceted, multi-wig snatcher, Hyun A. The song is packed with fun synths that'll definitelly keep you jumping. The song is about a girl, being cute and stuff, and how she's his "girl" and to not "touch touch" because he will fuck you up. Indonesians are so gangsta!

The video is also flaw-free. The girl pretending to be Hyun A is obviously not as fierce as Hyun A herself, but really, besides Britney, who else is that fierce? Back to the video, it has a simple theme, they're looking cute, sexy, smart, sweet and definitely sentimental, homeboys do not want you to touch touch their girl.

Enjoy it, and someone, if you know of any other flaw-free Indonesian GROUPS, please email me. kfankzbye.